At dusk, it becomes not only darker but also bluer. At the dawn the blue-process goes, of course, in reverse until sunrise. In both case we are talking about the "blue hour". A quote from wikipedia: "The blue hour is the period of twilight each morning and evening where there is neither full daylight nor complete darkness. The time is considered special because of the quality of the light". Take advantage of this wonderful blue light in your photographies.
Usually you need a tripod because the shutter speed will be long. But if you shoot early in the blue hour, you can sometimes manage without. Especially if you have a camera that performs well at high iso, at for an example iso 1200. Another advantage to shoot early in the blue hour (or late if it is in the morning) is that electric light will not be too bright in the image (because of the shorter exposurtime) But are you looking for the intense dark blue color, you must be out later (or vice versa earlier in the morning). Sometimes people think even that one must have enhanced the color, in photoshop. But then they have probably never noticed how intensely blue it really is during this period. Finally: Bring warm orange or red light, such as from windows, to contrast blue color, in the composition - it often looks very good together.
Svenska
Fototips 9. Fota stadslandskap i "den blå timmen".
I skymningen blir det inte bara mörkare utan också även blåare. I gryningen är denna blå-process förstås den omvända, fram till soluppgången. I båda fallen talar vi om "den blå timmen" För att citera wikipedia: "Den blå timmen är perioden med dunkelt ljus varje morgon och varje kväll, då det varken är fullt dagsljus eller totalt mörker. Tidpunkten anses som speciell på grund av ljusets kvalité" (översatt från engelska wikipedia)
Vanligtvis behöver du ett stativ eftersom slutartiderna blir långa. Men om du fotar tidigt i den blå timmen kan du ibland klara dig utan. Särskilt om du har en kamera som presterar bra på höga iso. En annan fördel med att fota tidigt (eller sent om det är på morgonen) är att elektriska ljus inte blir för ljusa i bilden.(p.g.a kortare slutartider) Men är du ute efter den intensiva mörkblåa färgen måste du vara ute senare (eller omvänt tidigare på morgonen). Ibland tror folk till och med att man måste ha förstärkt färgen i photoshop. Men då har de troligen aldrig lagt märke till hur intensivt blått det verkligen är under den här perioden. Slutligen: Ta gärna med varma orange eller rött ljus från tex fönster, för att kontrastera blå färgen - fungerar ofta mycket bra.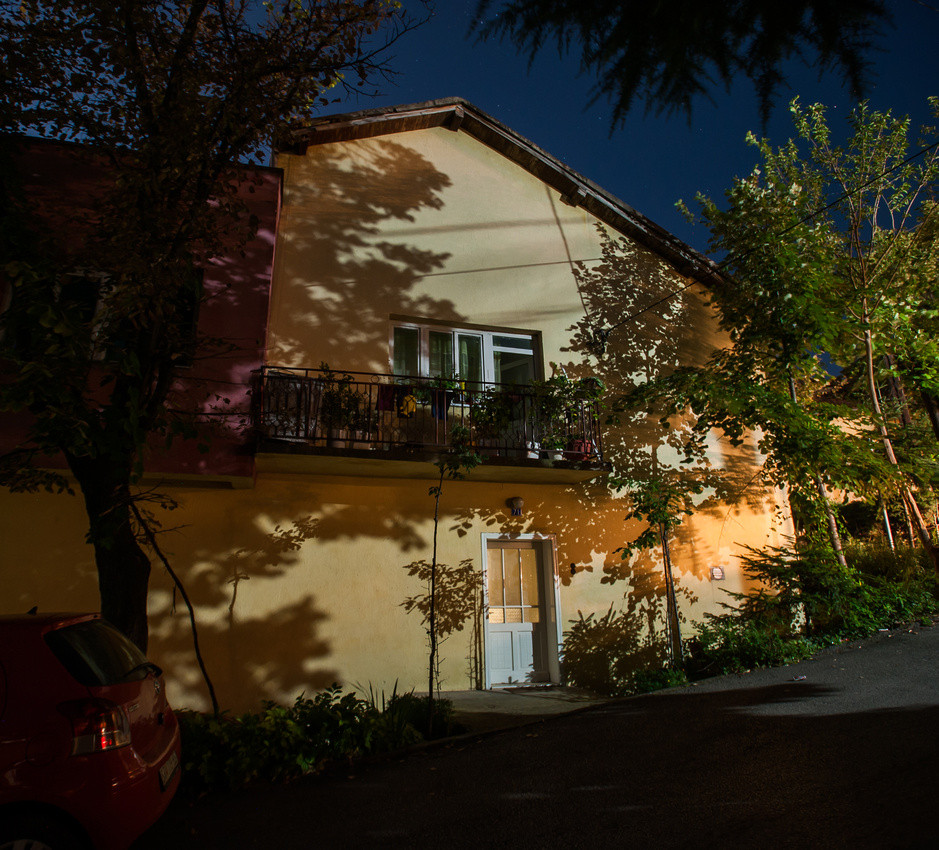 The 4 pictures above - Late blue hour in Strumica aug 2014.
Early Early blue hour in Strumica - sept 2014.
Early blue hour in Strumica - sept 2014.