After a long bus trip across the Balkans one day in February, we arrive at our destination: the small coastal town of Koper in Slovenia. Expectations are quite high when we, me and my wife, heard that the place should be something special - unique in its kind.
The city turns out to be a strange mixture of contradictory elements. Locals use the name Koper only about the historic center. It is circular and surrounded by about half of the sea. On the opposite side of the circle starts the modern parts of the city. Many residents, often of foreign origin, however, live on a mountain side which is overcrowded with apartment house. These three parts are today Koper.
The modern part is orderly, but characterless, like Swedish shopping area found outside the cities. Because it is cheaper for Italians to buy food in Slovenia has many large supermarkets opened its doors here. (Italian border is 20 min away) In Sweden they prefere placing these areas outside the cities. But here arises an abrupt and dull contrast difference because it starts directly where the old town ends. But for shopping, it is of course an interesting location.
The atmosphere in the town is sleepy and many people seem just as in Sweden, to have forgotten the art of walking - the streets are often deserted especially in the evenings, exept for cars. Not even during Saturday nights it live up. On the plus side is the well-ordered and disciplined vehicular traffic and that it is clean and tidy everywhere.
Our stay here get a bad start when the host people who promised us accommodation, until further notice, are angry because we refused to smuggle cigarettes from Macedonia. We are not allowed to rest after the 18 hours long bus trip and will later in the day be locked out, and more or less driven out the next day. Since we planned a longer stay, we end up in a real leghold traps, but fortunately we find a nice room through an ad - in addition to the old town.
Slovenia is a beautiful small country but economic growth is stunted since the financial crisis in 2008 - as unfinished concrete skeletons and significantly depressed salaries, tells about. The city has interestingly, several art galleries, but during our week here we never see any visitors in them. Perhaps also it is a consequence of the economic situation or art and art museums simply are low esteem here.
As summer destinations are Koper old inhabited center city with its surrounding marine - and the nearby small historic towns - like Izola and Portoroz - real pearls. Koper as well as the other mentioned old towns has narrow streets with great architecture from different eras, and alleys - stuffed with cafes, restaurants and interesting little craft and delis, etc. Every second Saturday is it also a big garage/antique sale on the streets. In the shops you will find - unlike many places in the Balkans - a developed service mind and a friendly helpful attitude, prices are generally low for visitors from Western Europe on contrary to what we have heard, it is easy to communicate in English.
The following series of images depicting the essence of the old town.
Svenska
Några intryck från Koper, vid den slovenska Medelhavskusten.
Efter en lång bussresa över Balkan en dag i februari, anländer vi till vårt mål: den lilla kuststaden Koper i Slovenien. Förväntningarna är rätt höga då vi hört att platsen skall vara något alldeles extra – unik i sitt slag.
Staden visar sig vara en märklig blandning av motstridiga element. Ortsborna använder namnet Koper endast om den historiska stadskärnan. Den är cirkelformad och omges till ungefär hälften av havet . På motsatta sidan av cirkel tar den moderna staden vid. Många innevånare, ofta av utländskt ursprung, bor dock på en bergsida som är överbelamrad med hyreshus. Dessa tre huvuddelar utgör dagens Koper.
Den moderna delen är välordnad men karaktärslös, ungefär som en av alla de där svenska köpområdena som återfinns utanför svenska städer. Eftersom det är billigare för Italienarna att handla mat i Slovenien har många stora matvaruaffärer slagit upp portarna här. (Italienska gränsen är endast 20 min bort) I Sverige vill man som sagt gärna förlägga dessa områden utanför städerna. Men här uppstår en abrupt och tråkig kontrastskillnad då denna tar vid direkt var den gamla stan slutar. Men för den shoppingsugne är det förstås ett intressant läge.
Stämningen är sömnig och folk verkar, precis som i Sverige, att ha glömt bort konsten att gå - gatorna är ofta folktomma särskilt om kvällarna. Inte ens under lördagskvällar lever gatorna upp. På pluskontot ligger den välordnade och disiplinerad biltrafiken samt att det är rent och städat överallt.
Vår vistelse här får en dålig start då värdfolket som lovat oss logi, tills vidare, är arga för att vi vägrat att smuggla cigaretter från Makedonien. Vi tillåts inte att vila efter den 18 timmar långa bussresan och blir senare under dagen utelåsta och mer eller mindre utkörda den andra dagen. Eftersom vi planerat en lite längre vistelse hamnar vi i en riktig rävsax men som tur är hittar vi ett fint rum via en annons - dessutom i den gamla stan.
Slovenien är ett vackert litet land men den ekonomiska tillväxten är avstannad sedan finanskrisen 2008 vilket bl.a. ofärdiga betongskellet och rejält nerpressade löner, skvallrar om. Staden har intressant nog flera små konstgallerier men under våra veckor här ser vi aldrig några besökare i dem. Kanske också det en konsekvens av det ekonomiska läget eller så står konst och konstmuseer helt enkelt lågt i kurs här.
Som sommarresemål är Kopers gamla bebodda stadskärna med sin omgivande marina - och närliggande små historiska städer – Izola, Portoroz och riktiga "höjdare". Koper såväl som de andra nämnda gamla stadskärnorna har smala gränder och prång – välfyllda med kafeér, resturanger och intressanta små hantverks- och delikatessbutiker m.m. Varannan lördag håller man också en stor loppmarknad ute på gatorna. I butikerna finner man - till skillnad från många platser på balkan – en väl utvecklad servicemind och ett vänligt hjälpsamt bemötande, priserna är överlag låga för besökare från Västeuropa och tvärtemot vad vi har hört är det enkelt att kommunicera på engelska.
Följande bildserie skildrar i huvudsak den gamla stan. För muspekaren över bilderna för bildtext.
"Blue" alleyKoper has many irresistible old streets and alleys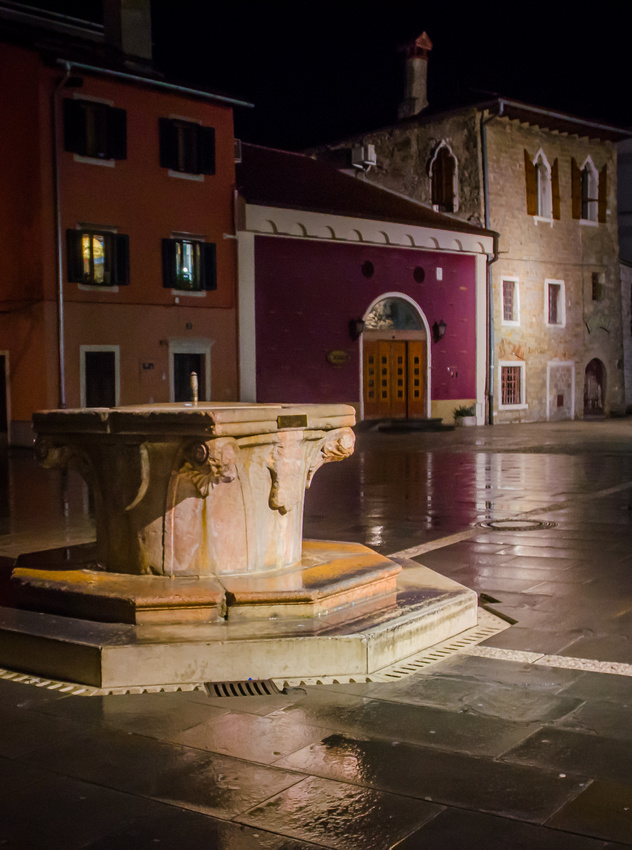 The wellAn old citywell from 1485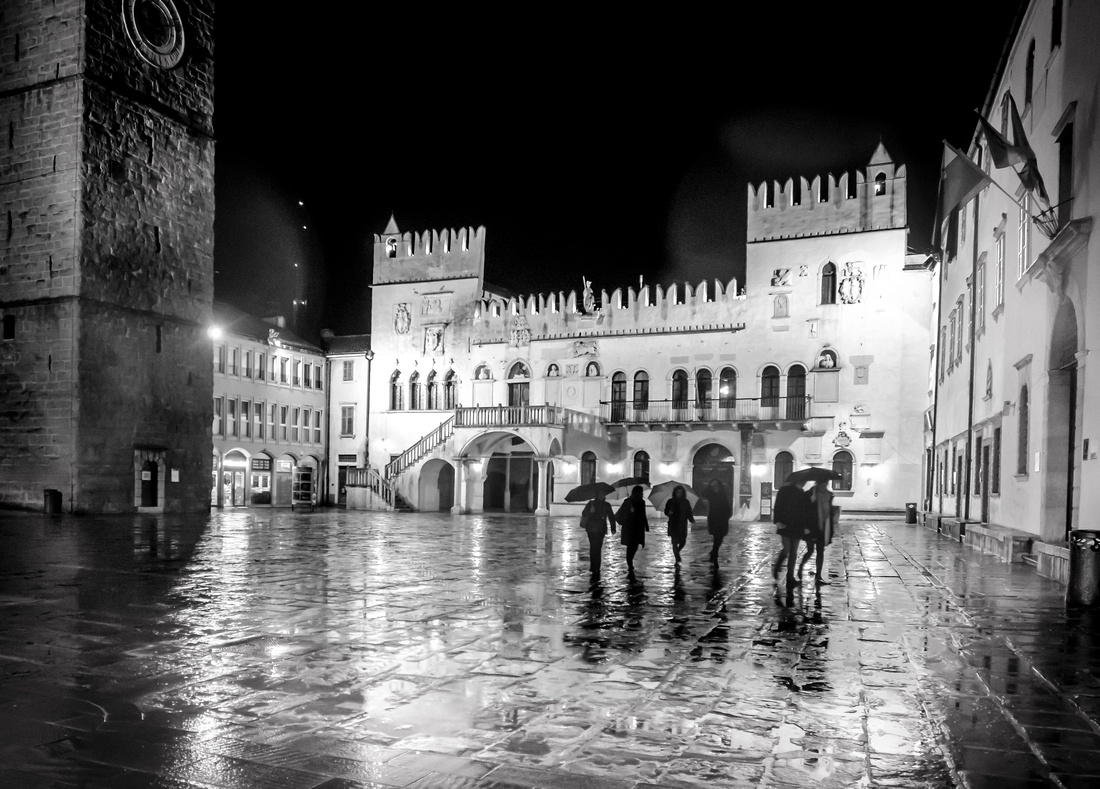 Tito square. Copy the old city has architecture from Venice's glory days, like this preatorian palace from 15th century, as well as from the Renaissance and the Baroque period.
CatedralThe square also houses the cathedral St. Nazarius from 1100th-centurie.
Palace facadeDetailj of the the Venetian governors palace.
Gate to the the Tito square.
The marinaThe marina in connection to the old town.
The portThe port is important not only for Slovenia but also for several Central Europeian countries wich dont have coastlines - like Austria, Hungary and Slovakia.